Intimacy: A Modern Tyranny

2020-21, group show, Thessaloniki International Film Festival, The Project Gallery, curated by Orestis Andreadakis (Thessaloniki - Athens, GR)


Cinema and visual art team up and take art to the public space. Twelve art works by Greek visual artists, inspired by the International Competition section films, are exhibited at the least expected locations, in Thessaloniki. A journey through the unique and perplex urban landscape of nowadays.

For the fourth consecutive year, TIFF assigned 12 Greek visual artists to delve into an International Competition section film and craft a work inspired by this particular movie. The exhibition, carried out in collaboration with the Metropolitan Organization of Museums of Visual Arts (MOMus) with the support of the Outset Contemporary Art Fund Greece, was scheduled to be hosted, as every year, at the MOMus – Experimental Center for the Arts (Warehouse B1, Port of Thessaloniki). Following the developments regarding the pandemic, the exhibition took place in open-air locations.

61st TIFF's main concept

Intimacy: a Modern Tyranny was inspired by Richard Sennett's book The Fall of Public Man (1977). In his book, the American sociologist notes that modern man is confronted not with isolation and alienation, but with a fictitious intimacy that hinders real social contact, ultimately removing the individual from the public sphere.

Featured artists: Ileana Arnaoutou, Margarita Bofiliou, Petros Efstathiadis, Zoi Gaitanidou, Iasonas Kampanis, Vassilis Karouk, Aristeidis Lappas, Iliodora Margellos, Yassonas Megoulas, Paola Palavidi, Sofia Rozaki, Maria Varela

︎ Olly olly oxen free was inspired by danish film Shorta (Anders Olholm, Frederik Louis Hviid, Denmark 2020, 108'), a sharp-edged adventure of life-and-death urgency that delivers an acute social commentary, without resorting to simpleminded blame games or clean-cut definitions.





an area of uncertainty the time of this event
the where and how are faintly amusing details to this story
the importance lies between his unavoidable descent
and that last moment he'd be seen and praised in all his glory

a sudden craving for sardines the dawn of his demise
for it's quite hard this time of day to find a good supplier
and oh he tried, roaming the streets but much to his surprise
he failed for once to meet his uncontrollable desire

ready as he was to throw a fit
a singsong voice shouted "You're it"

and it is said, while filled with dread, the last thing he could hear
was "olly olly oxen free"
then fell headfirst onto a tree

Olly olly oxen free by Sofia Rozaki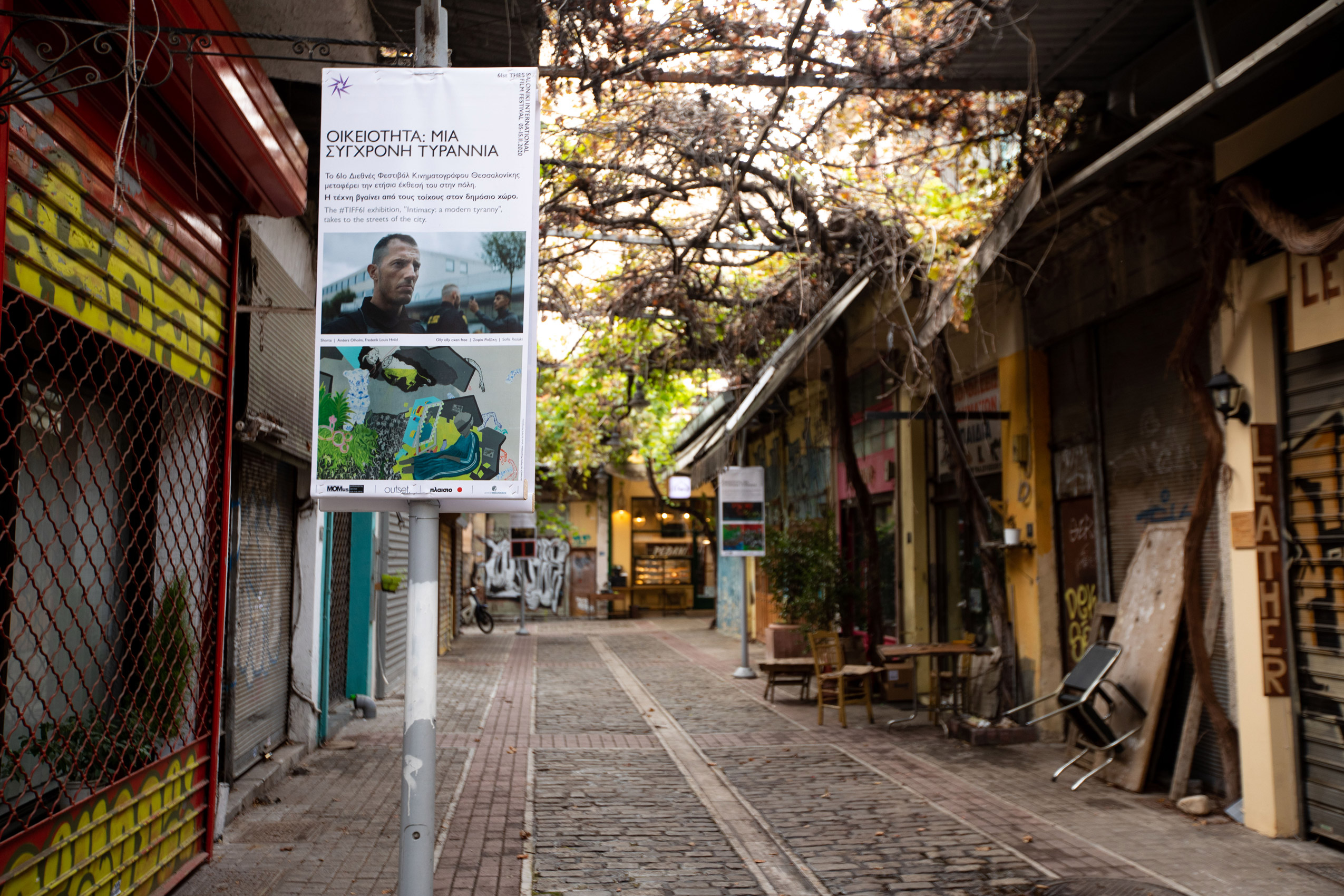 On July 2021, Intimacy: A Modern Tyranny was presented for the first time in Athens at The Project Gallery.